How to Enable Transport Layer Security (TLS) 1.2
About Transport Layer Security (TLS)
Transport Layer Security (TLS) is a protocol that ensures that a connection to a remote endpoint is securely encrypted in order to provide privacy and data integrity. Fiserv web applications and application programming interface (API) connections use TLS as a key component of their security. TLS 1.2 is the most current version and is considered to be the most secure. TLS 1.0 and 1.1 are earlier, now less secure versions. The predecessor to TLS, Secure Sockets Layer (SSL), has been disabled in Fiserv Bank Solutions systems.
To avoid online banking service disruption, complete the following steps for Microsoft Internet Explorer * by April 23rd, 2018.
From your internet browser, select Tools, then Internet Options.
Click the Advanced Tab, and scroll down to Security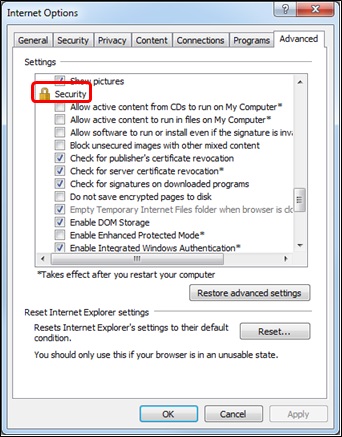 Ensure TLS 1.2 is checked, if not check TLS 1.2 and select, Apply, OK.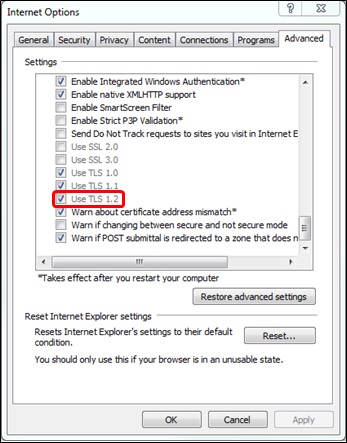 | | |
| --- | --- |
| Note: | Do not uncheck TLS 1.0 and 1.1, as access to other Fiserv solutions or third-party sites that have not yet enabled TLS 1.2 will be adversely affected. |
*  
Instructions are for Microsoft IE only. For Mozilla Firefox and Google Chrome browsers, search for "Enabling TLS" using your preferred search engine
.